The Vision
The leadership board assessed the current ministry needs and anticipated future needs with regard to our current facility. It is their desire that our buildings be improved to accommodate the needs of 300 people, including children (this is mainly due to parking, the size of the auditorium, and the number of elders we currently have to shepherd).
Having strong reservations regarding substantial debt, the board has recommended a plan to accomplish this improvement in a way that addresses the most important needs without embarking on a bigger and riskier solution.
The pages in this section are here to describe the vision so that our members and visitors can understand the plan and be involved both through prayer and financial giving.
The Plan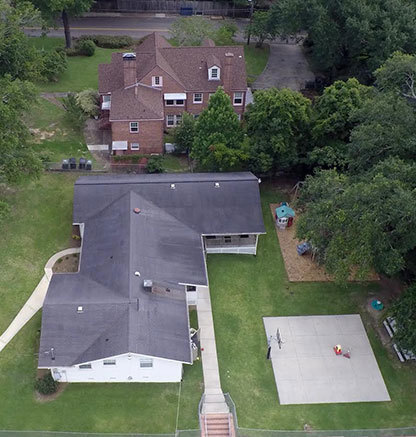 An analysis of the current space determined that our two biggest needs are in the nursery and the Fellowship Hall.
Our plan is to address these needs with a remodel of the existing Annex building followed by a remodel of the recently acquired property at 425 McDaniel St. Together, when completed, these improvements will provide much-needed space and help the church operate more efficiently.
The work will be accomplished in three phases:
PHASE 1
The first project will make significant changes to the existing Annex building. All three childcare rooms gain additional space when the back porch is enclosed. The entrance is enlarged and a formal check-in desk will greet parents and provide additional security. A much-needed covered walkway will provide weather-protected travel from the main church building to the Annex.
PHASE 2
With the purchase of the building adjacent to the Annex, there is new space available for many purposes. The top floor will be remodeled to create office space for the pastors and the church secretary. A new conference room and an additional Sunday school room will also be created.
PHASE 3
The last project will be a renovation of the Fellowship Hall. With the relocation of offices and classrooms to the new building, the Fellowship Hall will be opened up to make a larger space. No drawings are available for this phase yet, but they will be prepared as we get closer to the start of this project.
NOTE: The drawings shown here are not intended to be final. Many refinements will be made as the project progresses, but the overall plan should be close to what is presented here.
The Timeline
Phase 1 – Annex Renovation
Annex renovation was completed in April, 2017.
Phase 2 – Renovation of 425 McDaniel
A scope of work and a proposed project budget are being prepared and will be presented to the congregation.
Phase 3 – Fellowship Hall Renovation
A plan will be presented at the 2018 Congregational Meeting.