April 2, 2020
COVID-19 Plan Update
We will continue the current course of suspending in-person gatherings through the month of April. This decision is prompted by the president extending his guidelines to avoid gathering in groups of more than ten people through April 30th. We have reviewed Governor DeSantis' "stay at home" order, and it allows for us to continue with the necessary logistics for live-streaming.
A Few Reminders
---
March 22, 2020
Do the Five
Pastor Rod Bunton recalls the five recommended things to do to stay physically healthy and adapts them to suggest ways to stay spiritually healthy during this time of the coronavirus.
---
March 20, 2020
Plans for Staying Connected While We Cannot Gather
We are facing an extraordinary situation in which God's providence keeps us from gathering. We are also blessed with the providence of living in a time with online technology. We will use the technology God has given us to connect on Sunday morning around the Word of God and song. We recognize that this is not the same as gathering, but we believe it will be edifying to simultaneously hear the Word and sing, even if we are not able to do it in the same room. The livestream will begin on Sunday mornings at 10:45 a.m. at gcot.org/live. Please note that this is new territory for us, so we ask that you are patient as we work out any kinks.
Ministry of the Word. In addition to an online sermon, we desire to continue to minister the Word to one another and in small Bible studies. Some of these groups will meet online, some may suspend meeting, and others will gather physically (in groups of under 10). If you are in a Bible study group, your leader will contact you. In addition to this, we also encourage you read, sing, and pray the Bible at home with your family and/or over the phone with others in the church.
Generous Giving. Our Member Commitments state, "We commit to give cheerfully as the Lord provides for us in order to sustain the ministry of this body and its missionaries and to show that our treasure is in heaven and not on earth" (2 Cor. 9:6-12). You can give via mail (Grace Church of Tallahassee, 425 McDaniel Street, Tallahassee, FL 32303) or online (gcot.org/giving).
Community and Fellowship. We want to be attentive to ways we might care for one another during this time. We also want to continue our fellowship by communicating with one another. Perhaps you can use some time on Sunday to call or email a few fellow members. Think of those you might typically pass in the hall at church. Miss seeing them in person, thank God for them, and call them to chat for a few minutes.
Prayer. Keep praying for one another. Now is an excellent time to start using the member directory to pray for fellow members (this directory is only available to GCOT members). If you would like an updated directory, email Cindy@gcot.org.
Evangelism. Many of our unbelieving neighbors are thinking more about their mortality now than they were a month ago. In reality, death is always a moment away from each of us, even when there is no pandemic. Perhaps the Lord will use this crisis to cause them to give thought to their ways. However, they will only be saved by the gospel message. Pray the Lord will give you opportunities to be his ambassador during this time.
Biblical Church Leadership. The elders want to shepherd you and care for you. We see ourselves as essential personnel caring for souls. Please call us if you need prayer, help, or encouragement. When it comes to physical needs, you can call any of the deacons, and they can coordinate help for you (i.e., grocery or medicine pick-up, etc.).
Our Member Commitments begin with our devotion to Jesus Christ. May we demonstrate that Jesus is our treasure during this trying time by battling anxiety with faith (Matt. 6:25-33) and fighting any pride that might cause us to judge others or to assume that our perspective on the current situation is the only right one (Phil. 2:1-4).
May the grace of our Lord Jesus Christ, and the love of God, and the fellowship of the Holy Spirit be with us all.
---
March 18, 2020
Temporarily Suspending Our Gathering
We have decided that fulfilling our God-given obligation to our government entails suspending our gathering as a church for worship for at least the next two Sundays (March 22nd and 29th). We will also postpone all Bible studies with over 10 people in attendance (If you have questions about your particular Bible study's plans, contact your study leader). This decision is prompted by President Trump's request that people not gather in groups of more than 10 people until at least April 1, 2020 (here is the link to the guidelines).
We did not make this decision lightly. For Christians, gathering to worship is a priority and privilege that we take very seriously. However, this decision was informed by the biblical imperatives to love our neighbor and submit to our governing authorities (Rom. 13:1-2). We do not view it as sin to submit to the government's request to suspend meeting temporarily to aid in their efforts to preserve life.
The elders will send out an email on Friday with more information about how we plan to remain connected as a church body over the coming couple of weeks. This information will also be posted on this page and our social media accounts.
If you have any questions, specific prayer requests, or needs, please contact one of the elders.
---
March 15, 2020
A Christian Response to the Coronavirus Threat
Pastor Rod Bunton helps us see a proper Christian response to the uncertainty of the Coronavirus health threat. This message was given prior to his sermon in 1 Corinthians on Sunday, March 15, 2020.
---
March 13, 2020
Our COVID-19 Response Plan
In light of the many closures associated with the COVID-19 virus, we wanted to explain why we currently still plan to hold our normal Sunday activities this week.
Governor DeSantis issued a statement on Thursday encouraging people to consider canceling or postponing "mass gatherings." A "mass gathering" is defined by the CDC as a gathering of more than 1,000 people. Other sources have indicated that the number should be 250. Our gathering is less than that threshold, so we are not violating the government's request. However, we will consider suspending services for a period of time if the situation warrants it.
Below is a chart illustrating how we plan to evaluate the developing situation and make decisions.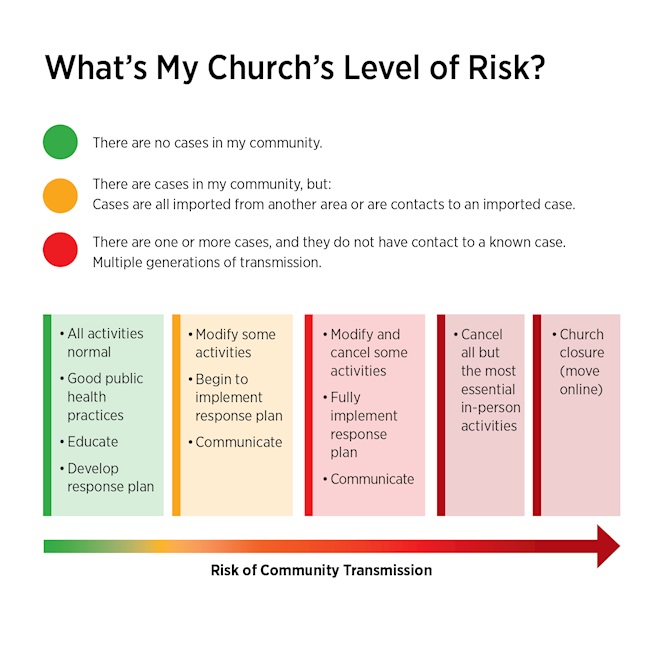 Since there are currently no cases in our community, we plan to continue meeting at this time. This may change as the situation develops. We ask that those attending Sunday services follow the guidelines we sent out in a previous message (see below).
Our desire is to avoid panic, to love our neighbors, and to honor our government. Therefore, we will continue to monitor the situation and make adjustments accordingly. Should we need to make changes to our gatherings, we will communicate this through email, on our Facebook page, our Twitter account, and this website.
We understand that some people, especially our older members, might stay home for a couple of weeks in order to limit possible exposure. If you need help during this time, please contact one of the pastors or deacons.
---
March 12, 2020
Responding to COVID-19
As Christians, we know that nothing can separate us from the love of Christ. So, we do not panic in the face of sickness or death. As a church family, we desire to love God by demonstrating faith in times of uncertainty. We also want to love our neighbors by taking wise precautions.
What we are doing
We are increasing our efforts to sanitize the church facilities.
We're asking each one of you to help in the following ways
Wash your hands regularly with soap and water (for at least 20-30 seconds).
Use a tissue whenever you cough or sneeze and dispose of the tissue when done.
Try to remember to limit handshakes and hugs (these are great ways to show hospitality and brotherly affection, but at this time, the best way to show love is to refrain).
Please take a couple of Sundays at home if one of the following situations apply to you: (1) you've traveled, within the past 14 days, to a country that is experiencing "sustained community transmission" of the virus (according to the CDC website that currently includes China, Iran, Italy, South Korea, Hong Kong, or Japan), (2) if you know you've been exposed to COVID-19, or (3) if you or your family is sick with virus-like symptoms. We'll miss you, but taking the opportunity to be cautious or to recover at home before you return to church is good for you and everyone at GCOT. The sermon will be uploaded to the church's website, so you can watch when you are able.
Basics about COVID-19
COVID-19 can spread from person to person through small droplets from the nose or mouth, including when an individual coughs or sneezes. These droplets may land on objects and surfaces. Other people may contract COVID-19 by touching these objects or surfaces, then touching their eyes, nose, or mouth. Symptoms of COVID-19 are fever, cough, and shortness of breath. Symptoms may appear in as few as two days or as many as 14 days following exposure. Most people recover from COVID-19 without needing special treatment. The elderly and those with underlying medical problems like high blood pressure, heart problems, and diabetes, are more likely to develop serious illness.